Are you planning to get your old tires replaced with brand new ones?
If your tire is showing signs of wear and tear such as visible cracks or bulges, it's one of the signs which indicates it's the time for tire replacement.
There are several ways how a person can tell if a tire is in need of changing. For example, you can keep an eye out on the tread of depth. You can check the traction for maintaining optimal grip on the road. It's also advised that one must never forget to consider the age of tires, as the ageing depends on how good the condition is while it can still deteriorate overtime.
In this article, we are going to discuss a few obvious reasons why you should consider changing the tires. Feel free to read everything about it.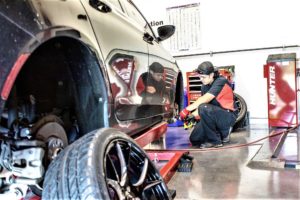 Signs of Wear & Tear
If the tires are becoming old and worn out like the sneakers you've overused in a basketball court, it's probably time to replace the old tires with some new ones.
So what are the signs of wear and tear that one can observe in a tire?
After you drive around the block, stop for a while and pay close attention to how much the tread depth. If the tread is worn down to 2/32 of an inch or less, then it means it's time to remove the old tires and replace them with brand new ones.
Another possible sign is the uneven wear. If you notice that one side of the tire is more worn out then the other, it's time to change that old tire. You can spot the difference when you start seeing misalignment issues appearing. If there are cracks or bulges within the sidewall, it showcases that the tire's assembly has been compromised.
Don't wait till it's too late – if your tire is showing signs of gradual wear and tear, you might want to get them replaced to ensure maximum safety on the road.
Tread Depth and Traction 
Is it already time to swap out those worn treads for fresh rubber? How would you know? Well, you can feel the difference in the traction. A tire with a good tread depth allows you to gain more grip on the road, especially during the rainy or winter season. 
As time passes, the tire starts wearing down and the tread depth decreases, reducing its ability to channel moisture away resulting in tire slippage. 
A driver may experience longer braking distance and a decreased traction. 
The best way to check a tire's tread depth is to perform a penny test. Just take a penny and insert Lincoln's head upside down between the two ribs on your tire. 
If part of the head disappears, it means the tire tread depth is not in good condition.  
Check How Much the Tire Has Aged 
If your tire's life has extended beyond six years or has become older, it can fail to work at its optimal performance. As the tire ages, the performance of the tire may become compromised. 
This usually happens because the rubber compound used in tires can deteriorate over time. When the tire is exposed to heat for far too long, the threads may dissociate and may not provide the traction you expect from them. Eventually, the older tire becomes prone to blowout.  
The age of the tire can be determined with a four-digit number which indicates the week and year of manufacturing. If the tires are nearing the six year mark, a replacement is recommended. 
Weather & Seasonal Considerations 
Unpredictable weather conditions can often catch you off guard. 
Be aware how seasonal changes can affect your tire's overall performance and road efficiency. 
How do different weather conditions impact your tire's traction and handling? For example, during the winter season, roads can become covered up with snow & turn icy. 
When your tires don't have enough good grip, your car may eventually start sliding or skidding. If it's the summer season, the heat can cause tire blowouts. 
What to Do If You Are Not Sure About Your Tire's Condition? 
Are you worried if the tire of your vehicle has become old and worn out? Do you want to ensure your vehicle should be taken to a tire shop? It's time you bring your vehicle to Tire One Nashville. 
So, don't wait too long, and make sure to replace your old tires at the right time for a smoother and safer ride.